Take a Look Springfield BMW Shoppers - the X1 has Arrived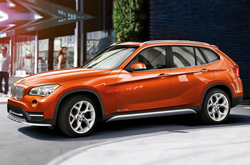 X marks the spot at Sunshine and US-65 - visit soon to test drive the BMW X Series in Springfield, Missouri!
X Series offers versatility in spades, with a wide assortment of models to choose from, including the X1, X3 and all-new X4 compact crossover SUVs, as well as midsize X5 and X6 sporty utility vehicles for shoppers who need a little more passenger and cargo space. For BMW fanatics who want to be in the know, the German automaker actually calls X4 and X6 "sport activity coupes" because of their dramatically sloping roof lines, which distinguish their look from the rest of the lineup.
Defined by luxury and driven by passion, X Series features several spunky engines and the premium quality that's expected when one seems the BMW badge. The latest edition to the lineup is X4, which debuts this year with a turbocharged 240-horsepower four-cylinder, paddle shifter-equipped eight-speed automatic transmission and BMW's signature luxury features. A few include the iDrive infotainment interface, BMW Assist eCall emergency system, and smartphone-integrated BMW Apps suite which is available with the Technology package upgrade.
Other notable changes this year include the X6's thorough redesign and the X3's all-new diesel engine, which provides a nice combination of robust power and excellent fuel economy according to 2015 BMW X Series reviews. With an EPA-estimated 30 mpg combined, the new diesel offers the best fuel economy of any engine in the X3 lineup. However, the 3.0-liter turbo inline-6 and entry 2.0-liter turbo four-cylinder are excellent options depending on your needs, especially if you're looking for more horsepower.
When you shop for a 2015 BMW X Series in Springfield, you'll not only have a chance to try out the new diesel, but also the opportunity to get an up-close look at the freshened up X6. Its dimensions are slightly enlarged and the interior is enhanced in several ways; it's more posh than ever and there's more space for back-seat passengers. X6's V-8 also gets a welcome boost in power this year, cranking out 445 horsepower!
See the remainder of Reliable BMW's 2015 BMW X Series review, then visit us at 3521 E. Sunshine St. for complete details about our spectacular lineup of luxury crossovers and SUVs.