Welcome to Reliable BMW's M3 Review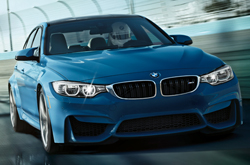 The BMW M Series can be described in many ways. For a start, it offers up mighty power, magnificent looks and modern technologies. There's also an extensive lineup of models and a wide array of body styles available, which equates to incredible spice-of-life variety for shoppers. Models include the M3 sedan, M4 coupe, M4 convertible, M5 sedan, M6 coupe, M6 Gran Coupe, M6 convertible, X5 M crossover SUV and X6 M crossover SUV, all of which can be found at the intersection of Sunshine Street and the 65 freeway!
Visit us to browse the 2015 BMW M Series in Springfield and get a feel for its many offerings.
If you're looking for a sporty luxury sedan, M3 is back from a brief hiatus and is once again one of your top picks in the class. It and the M4 Coupe have shed weight and feature a new turbocharged six-cylinder engine with 425 horsepower! The returning M3 is also slightly larger in size than the former model, yet with the implementation of a new carbon-fiber roof, aluminum suspension and additional updates, it's lighter in weight than before. Edmunds.com's 2015 BMW M Series review says "from track-day heroism to the daily commute, the M3 does it all with aplomb."
Other models in the lineup also receive big changes, including the X5 M and X6 M which have been revamped for 2015. The next-generation SUVs offer an updated look, 567-horsepower twin-turbocharged V-8 and new eight-speed MSteptronic transmission. Horsepower is up slightly on the V-8, but torque is where the engine sees a big spike, gaining 53 lb.-ft. since last year. In addition, the crossovers get standard M-exclusive 21-inch light-weight alloy wheels and are offered in two dramatic new colors - Donington Grey Metallic and Long Beach Blue Metallic.
For a complete breakdown of this year's changes and details about each individual model, please come see the 2015 BMW M Series in Springfield and have a one-on-one with a representative who can give you all the information you'd like to know. You can schedule an appointment using the contact form to the right. While you're here, please also see what's left in our 2015 BMW M Series review below.