BMW Battery Maintenance Information
Do you need car battery replacement or just service? Find out by watching this video.
You're already running late for work and now your car won't start. You stick the key in the ignition for a third time and still nothing. This is an unfortunate occurrence that happens to a lot of drivers every day. Don't let it happen to you. Instead, be sure to have routine battery inspections in Springfield on your BMW X5, 3 Series or M Series.
Continue reading our informative batteries service guide to learn how you can best take care of your car's overall health and save yourself from getting stuck on the side of a road.
When Should I Get Car Battery Service?
Car batteries can last anywhere from three to four years. However, this will ultimately depend on where you drive and how well you have maintained your vehicle's battery. We recommend having your battery inspected every time you get an oil change or every 3,000 to 6,000 miles.
Cold winter months and hot summer days can really put a strain on your battery. During these times, it's best to pay special attention to the health of your car battery. If it has been a while since you've had your battery looked at, we highly recommend
scheduling an appointment
at our onsite service center, which is staffed with factory-trained technicians who know how to properly care for your BMW.
When Are Car Battery Replacements Necessary?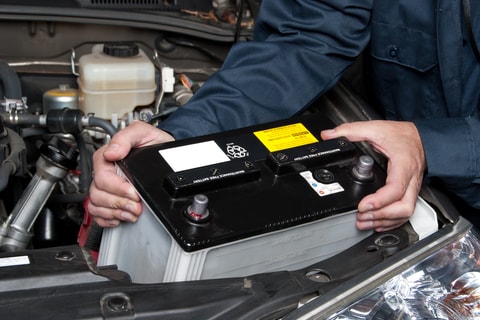 Do you often find yourself in need of a jump start? If so, you'll most likely need a new car battery. Here are various other signs to be on the lookout for:
Interior and exterior lights flicker
Battery indicator light stays on
Power windows are slow to move up and down
Swollen or bloated battery case
Where Can I Get a New Car Battery in Springfield?
We have a variety of BMW batteries for sale at our Springfield dealership - all affordably priced. On top of that, we also take pride in offering our customers exceptional customer service each and every time they walk through our doors. This is one of the biggest reasons why so many drivers in the Springfield area have continuously picked us to be their go-to spot for all their auto repair and car maintenance needs. To learn more, please contact us. We look forward to meeting you!
Service Hours
Monday

7:30 am - 5:30pm

Tuesday

7:30 am - 5:30pm

Wednesday

7:30 am - 5:30pm

Thursday

7:30 am - 5:30pm

Friday

7:30 am - 5:30pm

Saturday

7:30 am - 5:00 pm

Sunday

Closed