As the owner of a BMW, it's important to maintain the quality of the car to ensure that it continues to have appeal over time. If you're ready to keep the interior leather clean, there are a few tips to follow to keep it in great shape.
Use Leather Cleaner
One of the most effective ways of caring for your leather upholstery is to use leather cleaner. Many people make the mistake of using conventional cleaning products on leather, which can damage the surface of it and will cause it to appear worn. Vacuum the seats to remove excess debris before applying the leather cleaner. Choose a high-quality product to ensure that the right chemicals are included, and find a brand that offers UV protectant to avoid sun damage to the seats. You'll need to select a cleaner that is the same color as the leather to enhance the appearance of the material. The leather cleaner can be used every three to six months to keep the interior clean and ensure that the seats remain in great condition.
Use Microfiber Towels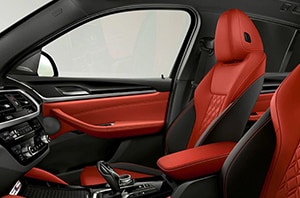 When wiping away grime or dust on your leather seats, opt for using microfiber towels, which are constructed of tiny fibers that prevent scratches from occurring. Make it a point to wipe down the seats at least once a week with a dry microfiber towel to prevent dirt from settling into the stitching or cracks on the leather. Keep the towels stored in your glove compartment to make them easy to access when they're needed. Microfiber towels can also be used to wipe any excess moisture away once leather conditioner or cleaning products are applied.
Avoid Eating in the Car
Although it may be convenient to eat in the car while you're on the go, consuming snacks and meals in the car can quickly lead to damage to your leather seats. Spills can easily occur when food is brought into your vehicle, making it necessary to avoid snacking until you reach your destination. If you must eat on a trip or a long drive, opt for using a towel to drape over your lap to protect your seat as you eat.
Clean with a Vacuum with Attachments
You'll need to rely on a vacuum cleaner that has attachments to remove dirt that accumulates in the small crevices of the leather seats. The attachments that are used will make it easier to clean in hard-to-reach areas. Gently apply the attachment to the leather material and drag the mouth slowly on the crevices of the seat to ensure that the vacuuming is thorough.
If you'd like to learn more about how to keep your leather seats clean when driving a BMW, contact our dealership to speak to one of our team members. We can provide you with more information and show you around our large inventory of vehicles on the lot.