Luxurious and sporty, the 2019 BMW M5 Competition is a full-size sedan that has a manufacturer's suggested retail price of more than $110,000. Under the hood, this all-new model has one of the most powerful engines ever produced by BMW. Turbocharged technology has been appropriately selected for the powertrain. You also get plenty of high-performance features that are tuned for agile and dynamic handling on the track.
For its steep price, this high-end BMW sedan boasts plenty of premium interior features, such as imported Merino leather and brushed metallic accents. Black kidney grilles dominate the front profile of this stylish car. A high-gloss black finish is applied to the mirror caps for extra styling. The M rear spoiler adds some aggressive character to the already athletic stance. The all-new M5 Competition model poses a serious threat to the well-established AMG series by Mercedes-Benz. It seems that BMW is ambitious about beating its traditional rival in performance.
Capabilities and Features
The powertrain in the 2019 BMW M5 Competition is based on the updated M TwinPower platform. Featuring twin turbochargers, the 4.4 L V8 engine block generates an astonishing output of 617 horsepower. This mechanical beast also cranks out a peak torque of 553 pound-feet. You'll only need 3.1 seconds to go from 0 to 60 MPH in this athletic BMW sedan. Inspired by racing aerodynamics, the chassis has been deliberately lowered to improve stability at fast speeds. The exhaust system has the M Sport technology that improves efficiency on every power stroke during combustion. This high-end BMW model also gets the M xDrive AWD system that maintains superb traction on asphalt and other paved surfaces. This versatile drivetrain comes with a rear-wheel drive (RWD) setting that's tuned for rapid acceleration. An automatic transmission system with eight gears and the M Steptronic function is standard in the agile M5 Competition. Of course, the traditional Driving Dynamics technology enhances the capabilities of the gearbox. Fitted with the Variable Damper Control, this BMW sedan won't be shaken up by rough roads. Brake calipers with six pistons contribute to remarkable stopping power. You can also install optional ceramic brakes that are engineered to perform well under tough conditions.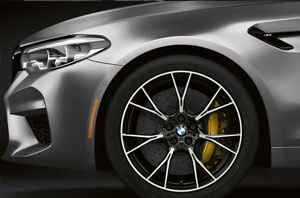 In addition to delivering awesome performance, the 2019 M5 Competition flaunts luxurious interior amenities that are matched by few sedans on the current market. The sporty pedals have brushed metallic finishes that look great with the other high-end materials inside the cockpit. Genuine Merino leather covers the ergonomic front seats that have power-adjustable positions and climate control. There are also several memory buttons available for the premium driver's seat. Side bolsters gently cradle the driver and front passengers. Aluminum Carbon and Dark Chrome add sophisticated styling to the lavish cabin. A rotary dial and hard buttons are used to control the infotainment system in this high-tech BMW sedan. You'll clearly see a variety of digital applications on the freestanding monitor that has an extra wide display.
The 2019 M5 Competition rolls on high-performance tires that are identified by the 275/35R20 label. These durable tires are installed on 20-inch alloy wheels that are available with signature Y-style spokes. You can upgrade the model by adding the optional M Driver's Package. This exclusive addition increases the vehicle's top track speed to 189 MPH.
Call or visit our BMW dealership and check out the 2019 M5 Competition sedan. We'll take you on an exclusive test drive in this sporty sedan.